On Thursday, March 11, the Honorable Tsutomu Nakagawa, Consul General of Japan, joined local officials to launch the "Operation 2000 Cherry Tree Project." The project, originally the "Operation 1000 Cherry Tree Project," started in 2012. After exceeding the goal of planting 1,000 cherry trees across the Dayton region, the project was extended, and the kickoff was held on the 10-year anniversary of the Japanese earthquake and tsunami.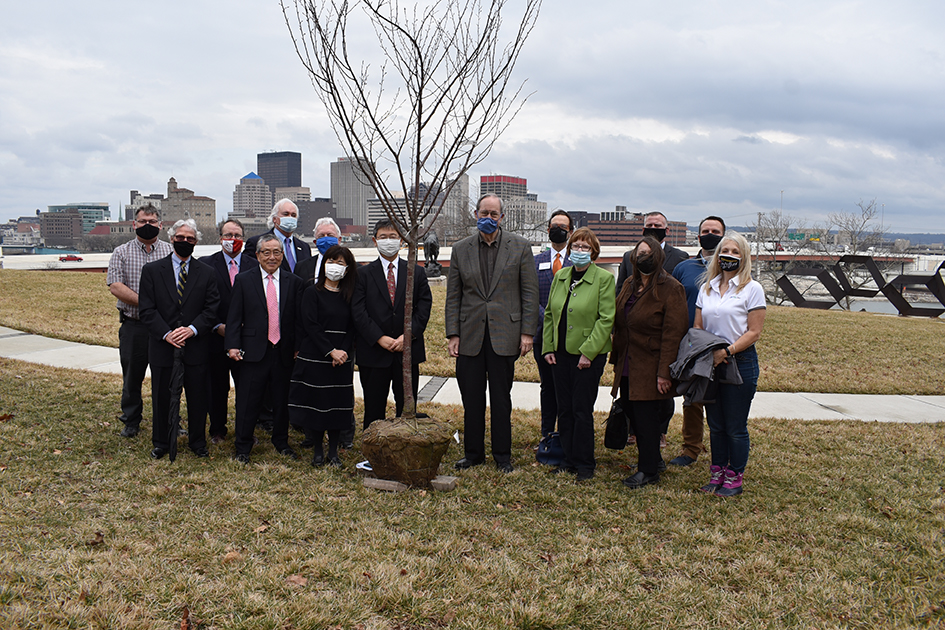 The project was developed by Alex Hara, a Japanese-born businessman living in Dayton. Hara was inspired to initiate the project after seeing the devastation to his homeland in March, 2011, following the 9.0 magnitude earthquake and ensuing tsunami that claimed nearly 16,000 lives and left more than 2,500 missing. Hara's inspiration came when he saw the quick response of the U.S. military and willingness of American people to donate money, products, and time to Japan.
"The cherry blossom means so much to Japan and represents the heart of the Japanese people," Hara said. "There is no better way to express our gratitude than with a cherry tree."
The goal of the "Operation 2000 Cherry Tree Project" is to plant an additional 1,000 cherry trees in the Dayton area as a symbol of Japan's deep gratitude for the overwhelming support of the American people throughout this disaster. It is also a commemorative celebration of Japan's gift of 3,000 cherry trees to the United States in 1912 as a symbol of their then-growing friendship.
"I am happy to witness firsthand the progress of the Operation 2000 Cherry Tree Project," said Nakagawa. "The success of its predecessor project is a testament to the enduring friendship that the people of Dayton and Japan have grown together over many years."
"Montgomery County is proud to be part of Operation 2000 Cherry Trees," said Montgomery County Commission President Judy Dodge. "With this addition of 1,000 more cherry trees, the people of our entire region will see this as a mark of friendship and shared future."
Ceremonial cherry tree plantings were held at Carillon Historical Park, Dayton Art Institute, and the City of Fairborn's Government Center. Hara and the project committee will be organizing plantings across the area until they've planted 2,000.
Tax-deductible donations are being accepted by the Dayton Foundation through the Operation 2000 Cherry Tree's website. Click here to donate.
Categories: Uncategorized