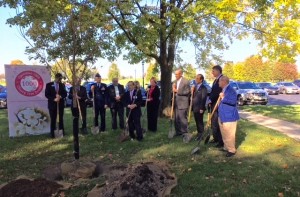 After having planted 999 cherry trees in and around the Dayton area over the last five years, Operation 1000 Cherry Trees inviting our supporters to Carillon Historical Park on Thursday, October 19th to celebrate reaching the project's first goal and announce the next steps for the initiative. This month, we have announced plans to extend our goal and plant an additional 1,000 Japanese cherry trees in the Dayton area.
Prominent community leaders spoke at the event, including the Consulate General of Japan in Detroit Mitsuhiro Wada; Former Ohio Governor Bob Taft; Montgomery County Commissioners Dan Foley, Judy Dodge and Debbie Lieberman; Dayton Power & Light President and CEO Tom Raga; and Dayton History President and CEO Brady Kress. The event culminated with two ceremonial cherry tree plantings: one to mark the 1,000th tree goal and another to launch the beginning of the next 1,000 cherry trees.
"Beginning with the next 1,000 cherry trees, the goal has gradually transformed into a community-wide beautification initiative as a side effect of the physical expression of gratitude of the Japanese people," founder Alex Hara said.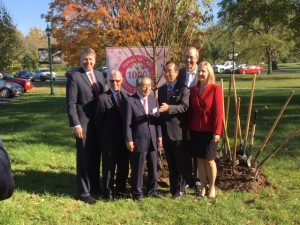 "DP&L welcomed the opportunity to partner with the Operation 1000 Cherry Tree Project in beautifying the Dayton landscape and adding to the tree canopy with the same utility-friendly Japanese cherry trees that line the streets of our nation's capital," said Tom Raga, president and CEO of DP&L. "It is our pleasure to sponsor the trees that now connect two historic Dayton landmarks, the Dayton Art Institute and Carillon Historical Park.
"Part of this project is building an even stronger relationship between Japan and Ohio. We have over 500 Japanese-owned companies in the state of Ohio, some of them have contributed to this project and it's an important part of our economy and our culture in Ohio," said Former Ohio Governor Bob Taft in a Miami Valley Voices interview. Former Governor Taft is the project's honorary chairman.
As Hara reflects on reaching the Operation 1000 Cherry Tree Project's first goal, he extends gratitude to the many supporters of the project across the Dayton community.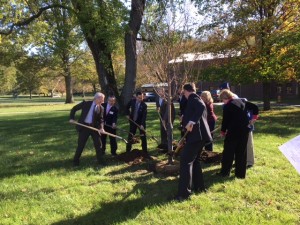 "My appreciation goes to the organizations, local government, Japanese companies, American companies, and individuals who have provided funding and support for this project," Hara said. "It's the first step of another 1,000-tree journey. Before you know it, there will be cherry blossoms all over Dayton, as a symbol of gratitude and a tradition of our community."
Categories: Uncategorized